Editorial Comment:
The deliberate effort on the part of media to obfuscate exactly who the National Guard are is exacerbated by absurd statements like we see in the article below coming from the Presidential Council.
Four Key Facts:
There is no new "National Guard".
There is a struggle between who will control Tripoli – the GNC or the GoA.
Terrorists fight for both puppet governments.
Both governments are Muslim Brotherhood.
All Muslim Brotherhood militias and their United Nations and foreign-backed governments in Libya are illegitimate.
Refer to this compilation that contains links to articles that will trace the creation of the Al Qaeda, Daesh, LIFG "National Guard" to its origins in 2013.
Martin Kobler met with al Qaeda commander Abdel Hakim Belhaj and other extremist leaders from Tripoli in Istanbul on March 30, 2016.  While public attention was focused on the appearance of a transfer of power between the GNC and the new GoA, such an arrangement was mere pretense in an effort to coerce the House of Representatives in Tobruk (originally acknowledged as the internationally recognized government) to surrender power to the Muslim Brotherhood, thus consolidating their caliphate in Libya.
Kobler, like Leon before him, is complicit in maintaining networks of terror, violence and chaos in Libya.  His Zionist successor, Khaled Salam Fayyad, will oversee the continuance of this dark imperial legacy.
It is imperative that nations genuinely opposed to international terrorism stop participating in NATO's shameful charade and lend all of their support to the legitimate Libyan National Army, the Legitimate Libyan Air Force,  and the House of Representatives in Tobruk. Only then will the caliphate be defeated and NATO's plans in Libya along with it!
Addendum: The Fake "National Guard"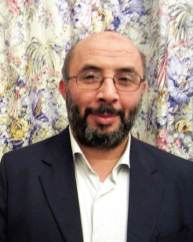 Khalid al-Sharif was appointed deputy minister of defense on January 11, 2013. He worked with the Tripoli Military Council headed by Abdel Hakim Belhadj to form the National Guard which works directly with the Judicial police in supervising detention centers, including the notorious Al Hadba prison.
The al Qaeda – LIFG National Guard has over 10,000 terrorist fighters at its disposal.
In March, during a meeting with Turkish intelligence in Istanbul, Khaled al-Sharif proposed the assassination of Libyan National Army officers in Tripoli as a means of neutralizing opposition to the Muslim Brotherhood's usurpation of Libya. The agenda involved replacing the legitimate Libyan National Army with his National Guard.
As a result of this initiative, several LNA officers have been brutally murdered.
While the Vienna communique praised the creation of the Presidential guard as though it were an entirely new body comprised of "professional personnel according to Article III of the Presidential Council Decree No 2 to protect national institutions, members of the Presidential Council, and members of the government",they were in fact placing an international seal of approval on the al Qaeda – LIFG 10,000-strong National Guard that al-Sharif and Belhadj created back in 2013.
Alexandra Valiente
Jamahiriya News Agency
---
العربية | فارسی | ENGLISH | FRANÇAIS | ESPAÑOL | TÜRKÇE | ITALIANO | DEUTSCH | PORTUGUÊS
حكومة الوفاق الوطني تعتبر "الحرس الوطني" في طرابلس خارجا عن القانون
اعتبر المجلس الرئاسي لحكومة الوفاق الوطني الليبية، أن "الحرس الوطني" الذي أعلن تأسيسه مؤخرا في طرابلس، مجموعة خارجة عن القانون.
وقال المجلس في بيان، الأحد 12 فبراير/شباط، "نتابع الإعلان منذ يومين من قبل بعض المجموعات عما يسمى بـ"الحرس الوطني" وما صاحبه من استعراض مسلح لهذه المجموعة بغية إرهاب الآمنين بالعاصمة طرابلس وفرض أجندات سياسية بقوة السلاح وخارج عن أي شرعية".
وأضاف المجلس الرئاسي أن هذه المجموعة ومن يدعمها تعتبر خارجة عن القانون ولا صفة لها، وسيتم التعامل معها على هذا الأساس من قبل الأجهزة الأمنية والقضائية المختصة.
وأشار المجلس إلى أن استفزازات هذه المجموعة وما صاحبها من استعراض للقوة ينذر برغبتهم في دخول العاصمة بصدام مسلح ودموي في محاولة لزعزعة الأمن والاستقرار.
وتابع أن هذا العمل محاولة لخلق جسم مواز للحرس التابع للمجلس الرئاسي المكلف بحماية المؤسسات الحيوية للدولة تحت القيادة السياسية بأفراد من الجيش والشرطة.
والخميس الماضي، أعلنت قوة تطلق على نفسها "الحرس الوطني" عن تأسيسها وبدء عملها من طرابلس، وفق بيان بثته وسائل إعلام محلية، دون النص في البيان صراحة أنها تتبع حكومة "الإنقاذ" التي يترأسها خليفة الغويل وغير المعترف بها دوليا، غير أن بعض وسائل الإعلام الليبية أكدت ذلك.
ومنذ سقوط نظام الرئيس الراحل معمر القذافي، إثر ثورة شعبية عام 2011، تعاني ليبيا من انفلات أمني وانتشار السلاح، فضلا عن أزمة سياسية.
وتتجسد الأزمة السياسية الحالية في وجود ثلاث حكومات متصارعة، اثنتان منها في العاصمة طرابلس، وهما "الوفاق الوطني" و"الإنقاذ"، إضافة إلى "المؤقتة" بمدينة البيضاء (شرق)، والتي انبثقت عن مجلس نواب طبرق.
المصدر: وكالات
ياسين بوتيتي